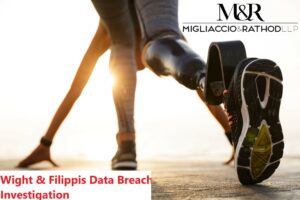 Migliaccio & Rathod is investigating the Wright & Filippis Data breach.  From approximately January 26, 2022, to January 28, 2022, a cyber-gang attacked Wright & Filippis's computer servers with ransomware, stealing patient and employee data.  Wright & Filippis discovered the attack shortly after it occurred but has only recently issued a press release about the attack. Many types of information are affected. Employees, former job applications, and patients may have had their name, date of birth, and Social Security number (SSN) all taken. Patients and former employees may also have had financial account information compromised.
Given how long it has been since the breach, hackers may have already been able to sell the data or otherwise benefit from the fraudulent misuse of such information. People affected by the data breach may have already noticed (or may soon notice) one or more of the following types of fraudulent activity: tax fraud, including theft of a tax return; unauthorized credit card inquiries or charges; or requests for loans or benefits in an individual's name without their consent.
Have you recently received a data breach notice letter from Wright & Filippis?
If so, we would like to hear from you.  Please complete the contact form on this page, send us an email at info@classlawdc.com, or give us a call at (202) 470-3520.
The lawyers at Migliaccio & Rathod LLP have years of experience in class action litigation against large corporations, including in data breach and privacy litigation and wage theft and worker's rights. More information about our current cases and investigations is available on our blog.