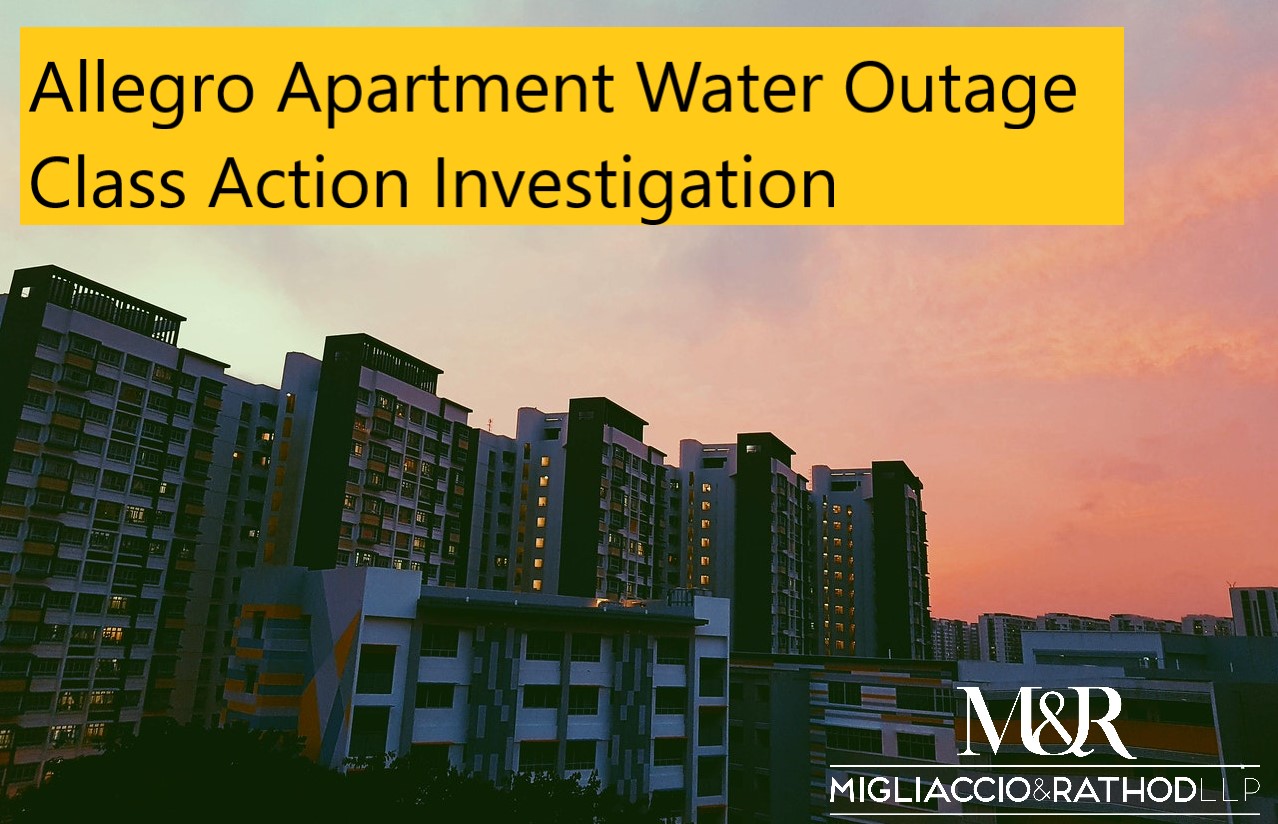 Migliaccio & Rathod is currently investigating complaints from D.C. tenants at the Allegro apartment complex on 14th St. NW, managed by Bozzuto, following a more than two-day water outage. Residents in the self-proclaimed "luxurious and stylish" apartment complex report that the management company failed to act in an appropriate and timely fashion to fix the issue, much less to communicate effectively or offer solutions of any kind. Beginning Monday, May 9, 2022 at 7am and lasting until almost 3am on Wednesday May 11, 2022, the residents were without access to running water and running low on patience with Bozzuto, who did not provide reasonable treatment to its tenants.  
In desperate need of answers and solutions, having been deprived of running water including showers, toilets, and sinks, tenants had reached out to Bozzuto, hoping for any inkling of a solution or plan thereof. Unfortunately, they were met with nonresponse, incomplete and vague answers, and unkept promises of when the water would be returned. Some tenants also note that they had been lodging complaints to the Allegro for weeks about a lack of water and low water pressure but failed to receive an adequate response then as well. Reports are that the outage came as a result of Bozzuto's own scheduled maintenance which went seriously awry. Residents are outraged not by the emergency, but by the treatment that followed. Having paid a premium on their living arrangements for luxury and style, they reasonably expected that emergency situations would be faced with grace and that the residents would be well-taken care of. Instead, management's seeming only consolation, was handing out water bottles in a half-hearted apology amidst the chaos.  
Residents may have legal claims under the Washington D.C. Consumer Protection and Procedures Act ("CPPA"). Violations of the CPPA can result in a statutory fine of $1,500 per violation. 
Were you a resident at the Bozzuto managed Allegro luxury apartment complex on 14th St. NW in Washington, DC during the water outage of 2022?   
If so, we would like to speak with you. Please complete the contact form on this page, send us an email at info@classlawdc.com, or give us a call at (202) 470-3520 for more information. 
Committed to Consumer Protection 
The lawyers at Migliaccio & Rathod LLP have years of experience in class action litigation against large corporations, including in cases involving unfair and deceptive trade practices. More information about our current cases and investigations is available on our blog.