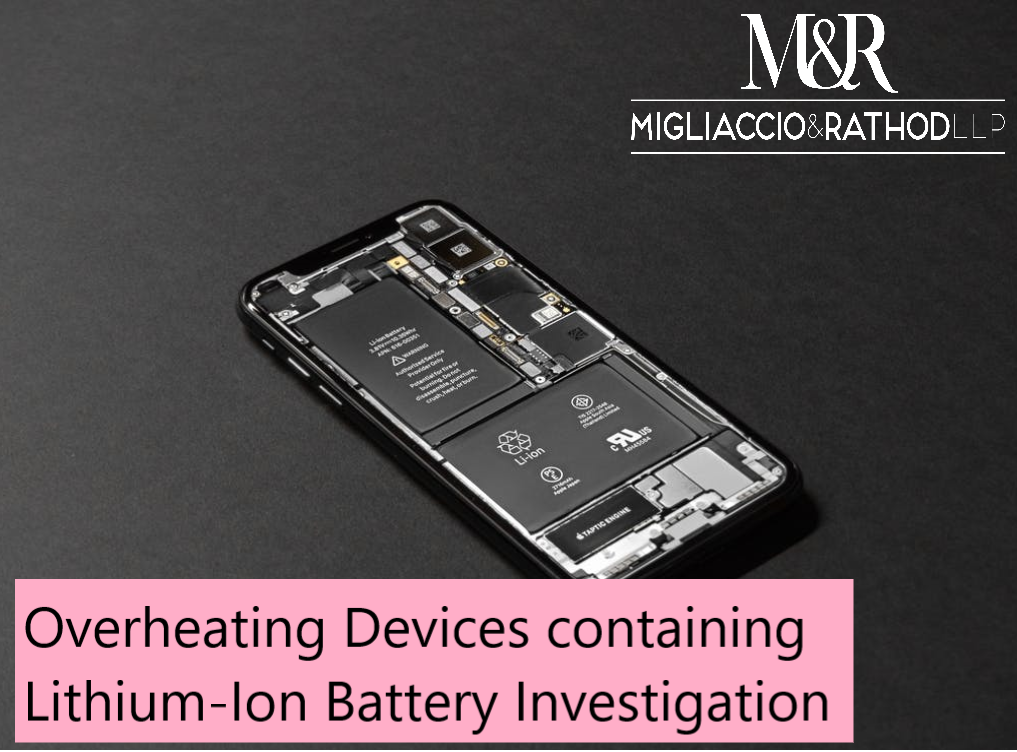 Migliaccio & Rathod LLP is currently investigating a variety of small electronic devices powered by lithium-ion batteries for excessive overheating, igniting, and failing to work properly. Lithium-ion batteries are rechargeable, compact, and store more energy than other similarly sized batteries, increasingly making them manufacturers' battery of choice. They are used to power many electronic devices which consumers use on a daily basis, including laptops, cell phones, vape pens, earbuds, and rechargeable battery packs. They also appear in some children's toys, including remote control cars and drones. However, a great downside to these batteries is that they are prone to poor battery design or manufacturing defects, use with poorly made chargers, exposure to extreme heat, and/or blunt force impact such as a device falling too hard or too many times. These factors can result in separator damage and/or failure, which make the broader device or battery itself more likely to overheat or even ignite.
While overheating is the most widely reported issue with devices containing lithium-ion batteries, these devices are also known to cause property damage, burns, and other physical injuries. Signs of a potential problem include swollen batteries, cracking, leaking, or smoking, as well as failure to work properly. Despite the dangers, lithium-ion batteries are found in an ever-increasing number of consumer electronics. In fact, several products were recalled in 2021 for defective lithium ion batteries, including a Razor hoverboard, Verizon mobile hotspots, and a portable massage gun.
Do you own an electronic product powered by a lithium-ion battery, such as a laptop, earbuds, e-cigarette, or another device? Is it prone to overheating or other problems?
If so, we would like to hear from you. Please complete the contact form on this page, send an email to info@classlawdc.com, or give us a call at (202) 470-3520.
Committed to Consumer Protection
The lawyers at Migliaccio & Rathod LLP have years of experience in class action litigation against large corporations, including in cases involving defective products and unfair & deceptive trade practices. More information about our current cases and investigations is available on our blog.