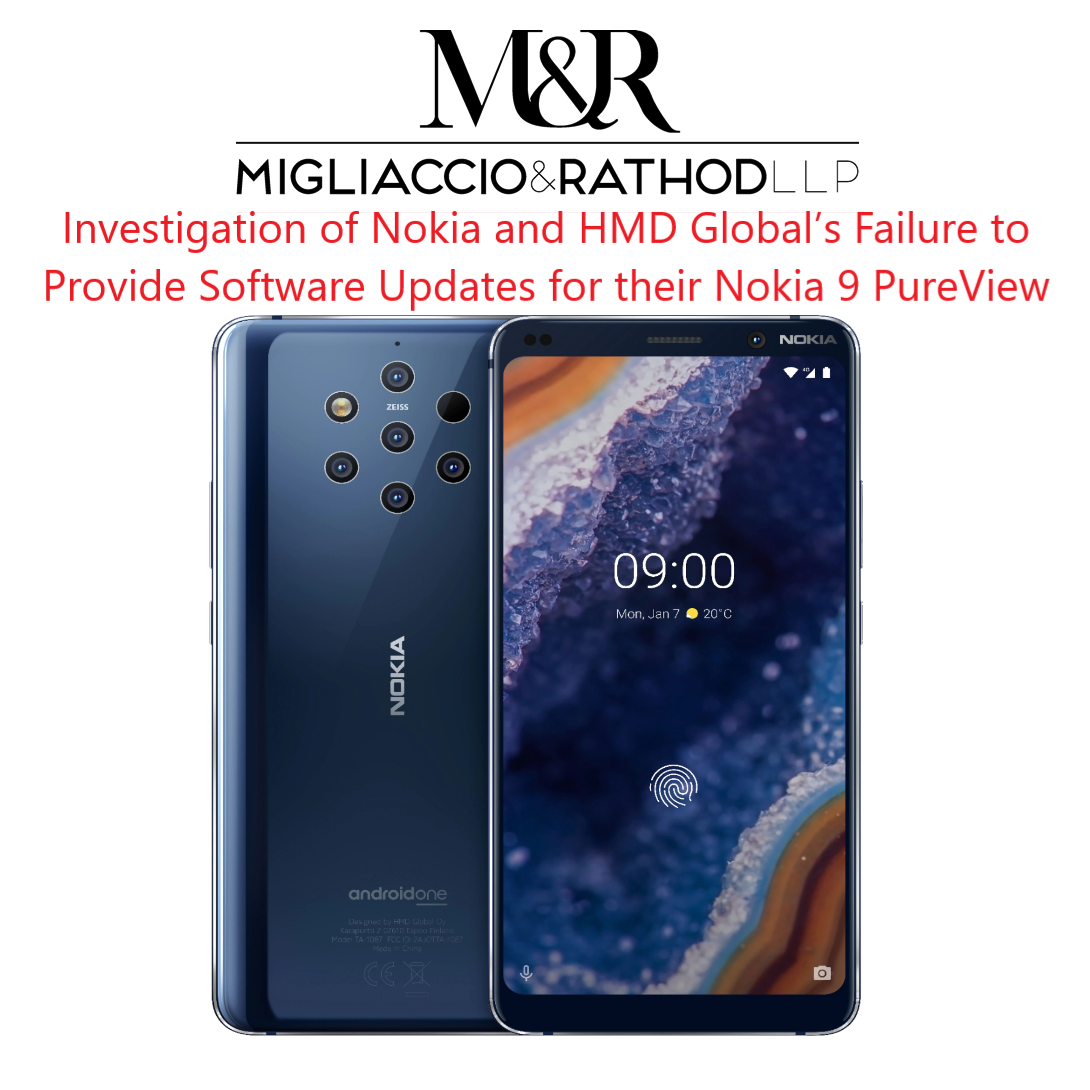 Migliaccio & Rathod LLP is currently investigating HMD Global and Nokia for their failure to meet marketed promises regarding software and security updates in the Nokia 9 PureView smartphones. Upon release in 2019, consumers could buy the Nokia 9 PureView with Android 9 operating system and the promise of at least two years of software updates, including Android 10 and 11. Unfortunately, HMD and Nokia failed to live up to this marketing and have now acknowledged that they have no intention of releasing the Android 11 software update. They justify the decision by stating that the Nokia 9 PureView has some key incompatibilities with the newest operating system, particularly with the camera. Their solution: do nothing and leave consumers with an outdated operating system at higher risk of security and functional failure.
Consumers now prematurely face the decision between keeping this outdated phone indefinitely and without the possibility of update from the Android 10 operating system or purchasing a new phone altogether. HMD and Nokia, rather than offering consumers a new phone that does meet marketing standards, are offering Nokia 9 PureView owners a 50% discount on some newer model phones that they claim will not experience the same defect.
Are you a Nokia 9 PureView owner whose operating system can no longer be updated?
If so, we would like to hear from you. Please complete the questionnaire below, send us an email at info@classlawdc.com, or give us a call at (202) 470-3520.
Committed to Consumer Protection
The lawyers at Migliaccio & Rathod LLP have years of experience in class action litigation against large corporations, including in cases involving unfair and deceptive trade practices. More information about our current cases and investigations is available on our blog.