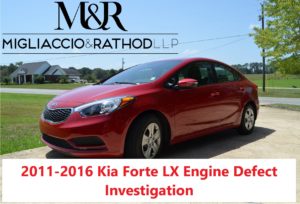 UPDATE: We are no longer investigating this matter. If you have experienced issues with your Kia Forte's engine, check the details of previous settlements to determine if you qualify as a class member at https://www.hbsslaw.com/cases/hyundai-kia-fire-hazard or https://www.kiaenginesettlement.com. Otherwise, we recommend contacting an attorney who handles individual based suits for further evaluation.
Migliaccio & Rathod LLP is currently investigating the 2011-2016 Kia Forte LX models with the 1.8L engine for a potential engine defect that may cause premature engine failure, safety risks due to loss of engine power, and costly repairs. The warning signs of impending engine failure include hearing a knocking noise coming from the engine; experiencing the engine stall, or seize, while driving; finding sludge in the engine bay. The latter issue is the result of oil thickened up because it mixes with metal particles left in the engine bay. Consumers who have raised the engine issues with the dealership or Kia report being blamed for improper maintenance, even when they have changed the oil at the recommended manufacturer intervals. Consumers report that, where Kia has not honored its warranty, the Forte owner is left with the bill for replacing the engine, a cost that can go up into the thousands of dollars.
A settlement has been reached covering the above issues, but the 2011-2016 Kia Forte LX model is not part of the settlement class. The settlement provides for a warranty extension, reimbursements for past repairs, rental cars, towing, and other related expenses, compensation for vehicles involved in engine fires, compensation if one of the class vehicles was sold, and a rebate program.
Has your 2011-2016 Kia Forte LX (1.8L) had engine related problems, like exhibiting knocking noises, stalling or seizing, or contained sludge?
If so, we would like to hear from you. Please complete the questionnaire below, send an email to info@classlawdc.com, or call us at (202) 470-3520 for next steps.
Committed to Consumer Protection
The lawyers at Migliaccio & Rathod LLP have years of experience in class action litigation against large corporations, including in cases involving defective products. More information about our current cases and investigations is available on our blog.