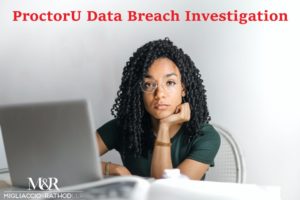 Migliaccio & Rathod LLP is currently investigating online exam proctoring platform ProctorU for failure to adequately safeguard user data, resulting in a data breach. ProctorU, whose services monitor online test-takers for behaviors indicative of cheating, became aware of a potential data intrusion on July 27th, 2020, and later confirmed via blog post that their database had been accessed by an unauthorized third-party on June 26th of the same year. This blog post claims that the breach only affected historic users who had provided ProctorU data prior to March 2015. However, Bleeping Computer, an information security news publication who originally reported the posting of ProctorU's database to online hacker forums, disputes this claim. According to analysis by Bleeping Computer, the database posted to the online forum contained information for users who had created accounts up to and including 2017. The compromised information includes:
Full Name
Email Address
Mailing Address
Phone Number
Affiliated Organization
Hashed Passwords
Impacted educational institutions include Harvard, Princeton, Yale, Columbia, University of Texas, North Virginia Community College, and members of the University of California system. Some email addresses included in the database were also associated with the U.S. military. In total, approximately 440,000 individuals' private information was exposed in the data breach.
Are you a current or former ProctorU user, or an administrative official whose affiliated institutions employs ProctorU's services for online test-taking? Are you afraid you or your institution's data was breached in this latest cyber security incident?
If so, we would like to hear from you. Please complete the contact form on this page, send us an email at info@classlawdc.com, or give us a call at (202) 470-3520.
Committed to Consumer Protection
The lawyers at Migliaccio & Rathod LLP have years of experience in class action litigation against large corporations, including in cases involving data breaches. More information about our current cases and investigations is available on our blog.