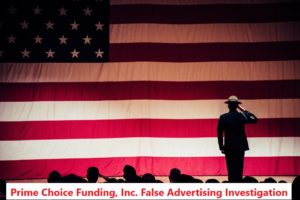 Migliaccio & Rathod LLP is currently investigating Prime Choice Funding, Inc. for false representations made in promotional materials for their mortgage loan offerings. Prime Choice primarily aims their deceptive marketing at active service members and veterans, insofar as the advertisements are for Veteran's Affairs (VA) guaranteed mortgages. These advertisements frequently misstate the credit terms of their offerings, promoting credit rates that Prime Choice does not in fact intend to offer to consumers. Promotional materials often describe introductory interest rates as "fixed," despite the actual terms allowing for adjustments that increase the rates over time. Prime Choice's promotional materials further falsely indicate that their services include property assessments, and often compare Prime Choice's lending offerings to hypothetical offerings that, in comparison, portray Prime Choice in a positive light. Their advertisement also often appropriate imagery and phrases from government agencies such as the VA and IRS, falsely implying an affiliation between Prime Choice and these government entities.
The Consumer Financial Protection Bureau recently issued a consent order against Prime Choice, forcing them to pay $645,000 in civil penalties due to their deceptive marketing practices.
Have you taken out a loan from Prime Choice Funding, Inc. following exposure to their misleading promotional materials?
If so, we would like to hear from you. Please complete the contact form on this page, send us an email at info@classlawdc.com, or give us a call at (202) 470-3520.
Committed to Consumer Protection
The lawyers at Migliaccio & Rathod LLP have years of experience in class action litigation against large corporations, including in cases involving unfair and deceptive trade practices. More information about our current cases and investigations is available on our blog.