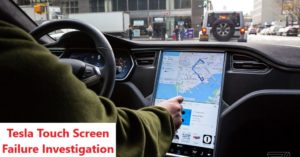 Migliaccio & Rathod LLP is currently investigating Tesla, Inc. over reports that the large touch screens prominently featured in their vehicles' design and functionality may be prone to premature failure. Touch screen failure means the loss of rearview camera functionality, thus reducing visibility. Other features that require touch screen functionality include navigation, infotainment, and web browsing. Features related to heating and air conditioning, as well as battery charges, are also limited when operating Tesla vehicles without a functioning touch screen. The National Highway Traffic Safety Administration (NHTSA) recently announced that it is investigating these failures in 2012 through 2018 Tesla Model S vehicles. NHTSA says the failures likely stem from flash memory devices, upon which the touch screens rely, wearing out due to their limited lifespans. The same touch screens and internal processors were also used in 2012 through 2018 Model S vehicles, as well as 2016 through 2018 Model X vehicles. Touch screen failures are likely preceded by other minor errors, such as frequent screen resets and the occasional loss of cellular connection.
Has your Tesla vehicle experienced touch screen failure, or have you had to replace the touchscreen unit?
If so, we would like to hear from you. Please complete the contact form on this page, send us an email at info@classlawdc.com, or give us a call at (202) 470-3520.
Committed to Consumer Protection
The lawyers at Migliaccio & Rathod LLP have years of experience in class action litigation against large corporations, including in cases involving defective products. More information about our current cases and investigations is available on our blog.