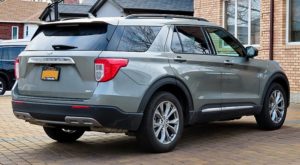 Migliaccio & Rathod LLP is currently investigating the 2020 Ford Explorer for defects related to the transmission oil cooler. The transmission oil cooler is prone to breaking, leading to problems with the powertrain. Failure of the transmission oil cooler is potentially attributable to a defective weld in the transmission cooler assembly. Explorer owners report loss of power, inability to shift past lower gears, and inability to move the car at all, with as little as a couple hundred miles on the vehicle. Affected drivers have needed to tow their vehicle to the dealership, with some reporting no reimbursement for the tow. Additionally, some owners have had multiple transmission oil cooler replacements, yet continue to experience powertrain issues with the vehicle.
Have you experienced issues with the transmission oil cooler in your 2020 Ford Explorer?
If so, we would like to speak with you. Please fill out the contact form on this page, call us for a free consultation at (202) 470-3520, or send an email to info@classlawdc.com.
Attorneys Committed to Consumer Protection
The lawyers at Migliaccio & Rathod have years of experience in class action litigation against large corporations, including in cases involving defective products and unfair & deceptive trade practices. More information about our current cases and investigations is available on our blog.