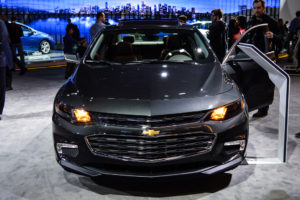 UPDATE: If you own a 2017-2018 Buick LaCrosse, a 2018 Buick Regal, or a 2016-2018 Chevrolet Malibu, your vehicle is covered by

GM's Special Coverage N182188250

. This special coverage covers the condition described below for a period of 10 years or 150,000 miles (240,000 km), whichever occurs first, from the date the vehicle was originally placed in service, regardless of ownership. Please read the following description of the defect to verify that your experience matches with what is covered by GM's program.
"Certain 2016-2018 model year Chevrolet Malibu, 2017-2018 model year Buick LaCrosse, and 2018

model year Buick Regal vehicles may have a condition which affects the electrical connection to one

of the vehicle's accelerator pedal position sensors. If this electrical connection is interrupted, the

accelerator pedal will still function, but the vehicle will enter a reduced engine power mode in which

the vehicle's maximum acceleration and torque are reduced. Additionally, the Malfunction Indicator

Light (Check Engine Light) will illuminate, the 'Engine Power is Reduced' message will display, and a

diagnostic trouble code for Accelerator Pedal Position Sensor Correlation (P2138) will be set when

this condition occurs."
Migliaccio & Rathod is currently investigating the 2016-2019 Chevy Malibu, the 2017-2018 Buick LaCrosse, and the 2018 Buick Regal for engine power reduction issues that results in unexpected deceleration, often at highway speeds. The problem appears attributable to a defective accelerator pedal sensor.
Consumer complaints reported to the National Highway Traffic Safety Administration (NHTSA) detail receiving a message on their dashboard while driving moments before losing speed, which reads: "Engine Power is Reduced."  Upon seeing this message, the car's speed is forcibly reduced and drivers report being unable to drive above a certain MPH. Malibu and Buick owners who reported this issue state that pulling over the vehicle and turning it off provides a temporary remedy, but that the problem has a likelihood of re-occurring. Further, owners who have sought to resolve this problem have had to pay the dealership out of pocket to replace the defective accelerator pedal sensor. This is a potential safety issue since drivers report that the message and loss of acceleration has occurred to them while they were on the highway, leaving them with little time to get to the shoulder and restart the vehicle.
Has Your Vehicle Slowed Itself Down While in Motion?
If so, we would like to speak with you. Please complete the contact form on this page, send us an email at info@classlawdc.com, or give us a call at (202) 470-3520 for more information.
Committed to Consumer Protection
The lawyers at Migliaccio & Rathod LLP have years of experience in class action litigation against large corporations, including in cases involving defective products. More information about our current cases and investigations is available on our blog.