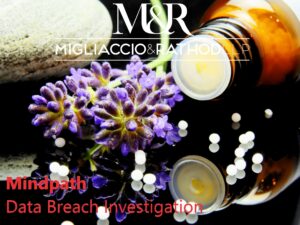 Migliaccio & Rathod, LLP, is currently investigating the mental health startup Community Psychiatry Managment LLC, d/b/a Mindpath Health ("Mindpath") for one or more Data Breaches.  In January 2022, Mindpath discovered a data breach on one of its computers in Charleston, South Carolina. It initiated an investigation that concluded in March 2022.  In January of this year, Mindpath reported a data breach to the Massachusetts Attorney General involving breached Social Security Numbers (SSNs).  Other information may have been affected, such as private psychiatric information.  It is not known if this recent report is connected to the data breach of January 2022, or reflects an entirely new data breach altogether.
People affected by the data breach may have already noticed (or may soon notice) one or more of the following types of fraudulent activity related to their personal and health information: unauthorized credit card inquiries or charges, requests for loans or benefits in an individual's name without their consent, inaccurate information in one's medical file, or fake medical procedures ordered in someone's name, but never received.
Have you received a data breach notification letter from Mindpath Health?
If so, we would like to hear from you.  Please complete the contact form on this page, send us an email at info@classlawdc.com, or give us a call at (202) 470-3520.
The lawyers at Migliaccio & Rathod LLP have years of experience in class action litigation against large corporations, including in data breach and privacy litigation. More information about our current cases and investigations is available on our blog.