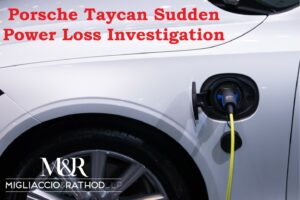 Migliaccio & Rathod LLP is currently investigating Porsche over reports that their 2020-2021 Taycan model vehicles are prone to sudden and total loss of power while in use. The National Highway Traffic Safety Administration (NHTSA) recently announced a probe into the potential defect, citing numerous complaints received from owners of the luxury electric sedan. The complaints describe a complete drivetrain failure that can occur while the vehicle is stationary or in motion. Over half of the complaints claim that vehicle owners were unable to restart their Taycans following the abrupt and dangerous loss of power. Each complaint alleges that the loss of power occurred without advance warning and that an error message displayed only during or after the vehicle had already stalled. NHTSA estimates the defect could affect upwards of 12,146 Taycan vehicles.
Are you a Porsche Taycan owner who has experienced the sudden power loss defect?
If so, we would like to hear from you. Please complete the questionnaire below so we may better evaluate your potential claims and keep you appraised of future case developments. You can also use the contact form on this page, send us an email at info@classlawdc.com, or give us a call at (202) 470-3520 to request more information.
Committed to Consumer Protection
The lawyers at Migliaccio & Rathod LLP have years of experience in class action litigation against large corporations, including in cases involving defective products. More information about our current cases and investigations is available on our blog.